Buying a rotary hammer drill is the best way to invest money if your job requires performing heavy tasks, such as drilling and chiseling hard materials. It's similar to a hammer drill, but instead of a special clutch, it uses a piston mechanism. Due to that mechanism, it allows you to drill bigger holes in significantly less time.
Although buying the right rotary hammer drill can be a bit tricky sometimes, you can't go wrong with Bosch RH328VC 36V. Its price is slightly higher than most similar models, but it provides a mesmerizing quality. So, let's see what this rotary hammer drill has to offer.
Basic Info
Bosch RH328VC is primarily designed for people who seek both power and mobility in a single device. With a 36V power source, it is able to deliver over 4100 blows per minute, since it has a reliable and strong 4-pole motor. The drill also comes with a special vibration-control feature, which perfectly minimizes all vibrations.
Bosch rotary hammer drill comes in a robust package along with extras, such as a charger and batteries. It uses a 36V Lithium-Ion battery, specially designed for this drill, and weighs only 9.5 pounds. Not only the drill is relatively light, but it comes with the anti-kickback control feature to protect you from any possible injuries. The package also includes a depth gauge and an extra 360-degrees handle.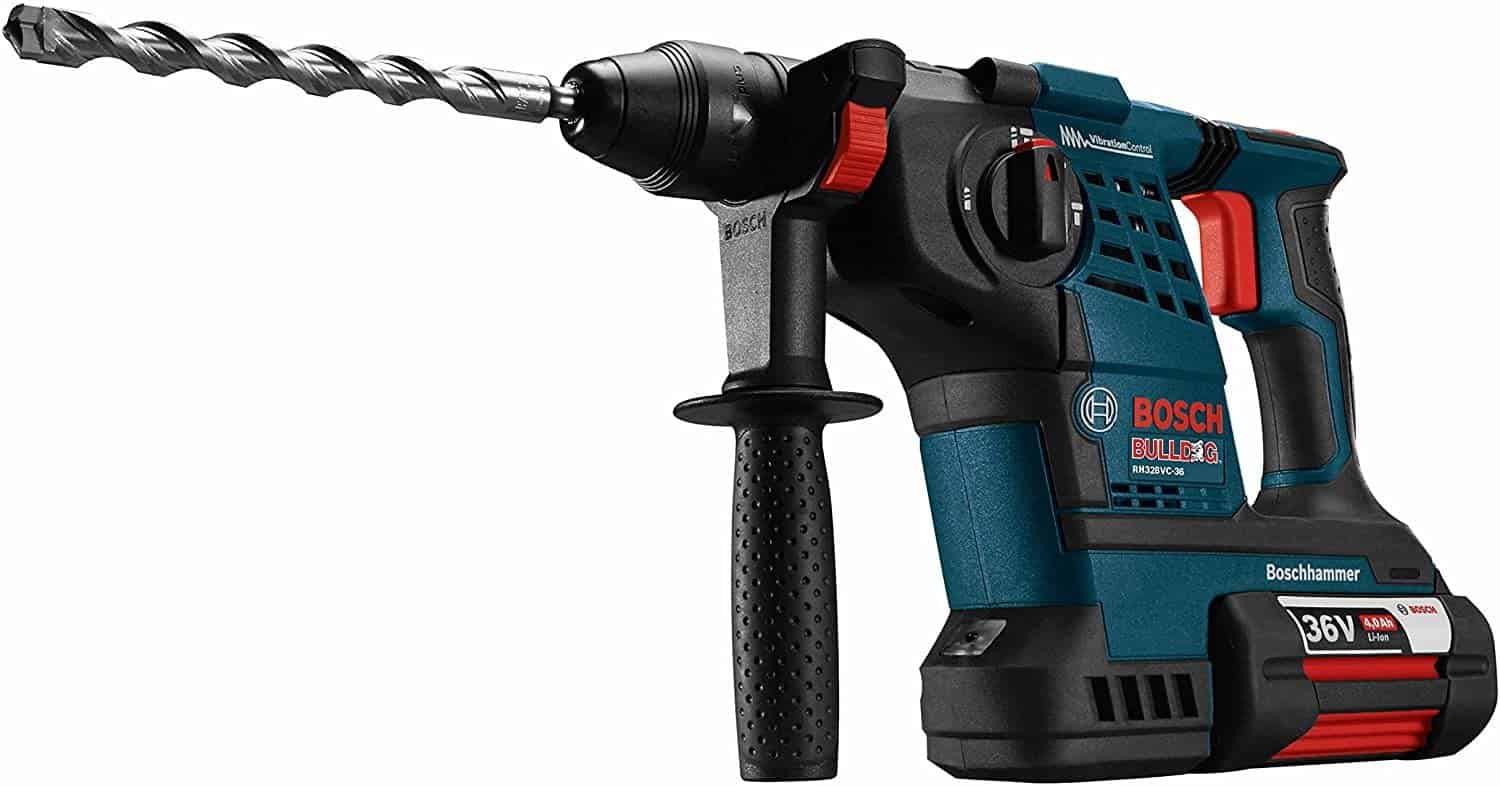 A Bit Detailed Info
As we mentioned, Bosch RH328VC is capable of delivering around 4100 blows per minute. It comes with a variable-speed feature, which allows you to attain very accurate bits. 
Another great thing is the Electronic Precision Control (EPC), which allows you to make accurate drills even at high speed. After many hours of testing, we noticed that Bosch precision is definitely worth the money.
But that's not all! This Bosch drill comes with more great features, such as the torque-speed adjustment, acceleration sensor, and convenient vibration control that we mentioned. Let's dive into the details a bit.
Torque-speed adjustment is a handy feature that you can activate by simply pulling the trigger. It changes the speed, allowing you to use it at any RPM between 0 and 940 revolutions under no load. Another feature, the acceleration sensor, is designed to prevent injuries. It limits the acceleration of the device in order to provide you the maximum protection against any possible damage. The third feature, vibration control, is mostly felt on the handle. It is designed to increase the performance of the drill by implementing the counter-vibration function. If you've ever used a rotary hammer drill without vibration control, you will notice the difference in no time.
Like most similar tools, this power hammering drill requires some basic maintenance. For example, you should regularly oil the moving parts, sharpen the bits, and clean off the machine after use.
Who Is Bocsh RH328VC for?
Bosch RH328VC can serve multiple purposes, but basically, it's a tool used by handymen who regularly use hammers and drills. 
At first, it will perfectly suit the needs of masons. It does an excellent job of drilling holes in concrete when setting up anchors. Besides, the tool is pretty good for drilling holes in light metals when passing electricity, which is necessary for wiring.
You will also find it useful if you are a plumber. Bosch RH328VC is handy for making piping holes and channels for drainage, usually on wood and concrete. If you are a woodworker, you will be amazed by its drilling and hammering ability when it comes to working with literally any type of wood. It perfectly replaces the hammer and standard drill.
What We Don't Like About Bosch RH328VC
Like every device, Bosch RH328VC has some downsides – or at least, there are some things that we don't like. Of course, it's currently one of the best rotary hammer drills in the market, but there are two things that we should mention.
The device comes with a warranty of only one year. It's not bad, but considering its price, we expected at least a 3-years warranty. The other thing we found to be a downside is the battery. You will have to charge the battery every four hours, and it takes at least half an hour to charge. On the other hand, Bosch RH328VC comes with two batteries, so you can always charge one while you use the other. 
Comparison With Similar Models
As always, after the whole day of testing, we had to compare the Bosch rotary hammer drill to other, similar products. Dewalt and Makita are famous brands that make power tools, so we compared it with their most popular models.
Let's see the difference between RH328VC and Dewalt DC233 first. Both of these tools work under the same voltage, but they differ in RPM and BPM. While Bosch has a BPM of 4100 and max RPM of 940, Dewalt can provide a BPM of 4400 and RPM of up to 1500. 
When it comes to comparison with Makita XPH102 18V, Bosch is an obvious winner. They both have a powerful motor with a very high torque speed. However, we noticed that Bosch is much better when it comes to working at higher BPM and RPM. Besides, Bosch weighs 9.5 pounds while Makita weighs only 4, but on the other hand, Makita works at only 18V.
A Few Words in the End (Summary)
After an in-depth review of Bosch RH328VC, we can confidently say that it's one of the best rotary hammer drills on the market. Since you can use it as both a drill and a hammer, it's suitable for all handymen who need high power and maximum safety. No matter if you are a mason, plumber, electrician, woodworker, or simply want to do some DIY projects, you will find this tool extremely useful. In the end, if relatively short battery life is not a problem for you, there is no need to look any further – Bosch RH328VC rotary hammer drill will satisfy all your handyman needs!